Roofing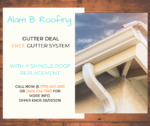 152 West Middle Street, Gettysburg PA
17325
We are a Family-Owned and Operated Roofing Company serving the Gettysburg Area
Founded in 2007, Alam B Roofing & Home Improvement has been proudly servicing the Gettysburg area for over 11 years.
Our team is dedicated to bringing the best work possible to each and every one of our clients.
For more information, you can call now @ (717)-420-2163 or (240)-224-7383. We Provide Free Estimates!
Submit an Event
Rules for Events:
Must be local to Adams County
That's pretty much it lol
Benefits of listing your event?
Your event will be shown on most pages of Gettysburg Wire
We'll cross-promote events on social media as our listings grow
It's free!
You can manage and add events at will
June Business of the Month