I hope everyone is staying cool out there in this heat!  I hope for some of those thunderstorms this weekend to water our crops.
Donald and I have been planning out our next steps with Gettysburg Wire.  How we plan to support local businesses (granted there are some chains listed in this article, but openings we don't mind talking about, it's the listings that will only be local :), what we plan to tackle next.  I know we will be spotlighting a local business each month that we've visited or heard about.  We also have had some recipe submissions in from locals who want to share the culinary history of Gettysburg and Adams County.
We are also looking for people interested in writing up any commentaries about local events, politics, and news as well.  Share your photos, your blogs, your news, your commentary.  We'll centralize all of it here on Gettysburg Wire 🙂
This weekend we'll be attending farmers markets in town, visiting some of our favorite local farms to stock up on our food supplies, and maybe checking out a new business that we can give insight to on here 🙂  So keep checking us out or follow us on Facebook.  If you have a place you recommend for us to visit, let us know!
Chick-Fil-A comes to Hanover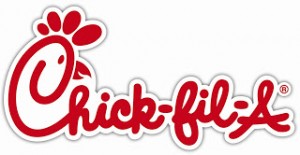 Hanover will celebrate the opening of a Chick-fil-A on August 8th.  The restaurant will be located on Eisenhower Drive and will create approximately 78 jobs, according to the Evening Sun.
Chick-fil-A generally hands out 100 free meal coupon books on opening day.  Those wishing to enter have to show up at 6am before the official opening and have your name put in a raffle.  100 names are drawn with 10 alternate names also drawn.  In order to claim the prize, you have to stay on the property for 24 hours.
Good luck Hanover residents 🙂
Rabies in Biglerville
Apparently a kitten that was attacked in Biglerville and brought to Confederate Woods Veterinary Hospital in Gettysburg tested positive for rabies.  Adams County SPCA is responding with a rabies clinic at Carroll Valley Borough Park in Fairfield on August 6th from 5-9pm.  The vaccinations will cost $10 for cats and dogs, so don't hesitate to sign up for this and get your pets taken care of.  Questions?  Call the shelter at 717-334-8876.

Farnsworth Inn on the History Channel this Friday
The Farnsworth Inn will be mentioned on the show "Haunted History" this Friday at 10pm on the History Channel.  Don't forget to check it out 🙂  According to the Haunted website:
Hundreds of witnesses have encountered the paranormal in Gettysburg, Pennsylvania making it one of the most haunted towns in America; but who are these spirits, and what do they want us to know about the bloodiest battle ever fought on North American soil? Ghosts of soldiers roaming the battlefield and town open our eyes to a series of unexplained phenomena that neither begin nor end with the Civil War. Ominous sightings reveal the true stories behind four locations all connected by one battle; a troubled orphanage, a Confederate field hospital, the battlefield and the house where the lone civilian was shot down during the Battle of Gettysburg. Spirits from a bygone era at last tell the true history of the Battle of Gettysburg.
Royal Farms Opening in Littlestown
I drive by here all the time and was wondering when this would finally be complete.  It looks like the Royal Farms in Littlestown is scheduled to open on July 25th.  This will be the first Royal Farms in Adams County.  I know 107.7 has been visiting a Royal Farms each month for their local tour, will they be at this one in August?  I'm liking that they seem to have a surcharge-free ATM, I wonder if all of them are like that?