I want to shed light on a local story that touched my family in a very grateful and inspirational way.
A little back story:
My cousin Stephanie has been raising her daughter alone for several years until recent years when she met her new husband.  During that time she has sacrificed much and dedicated her purpose in life to tending to her little girl who is around 6 years old now.  This little girl suffers from a neurological disorder that causes her to lose the ability to user her legs when she is fatigued.   The disorder only gets worse after puberty, and there are times during school functions that the little girl loses the ability to walk and my cousin has to carry her (such as a recent outdoors school excursion).  As she gets bigger this will become increasingly difficult.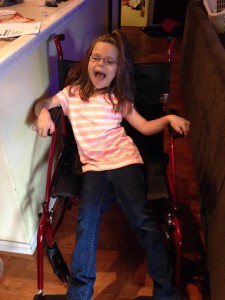 Since the doctor feels prescribing her with a wheel chair would be a sign of "giving up" on Natalie, my cousin has been trying to find a local used wheel-chair from local online auction communities.
After several days with no leads on a used wheel-chair, she was contacted by a group called the Thurmont Grange #409 that said they had a meeting and they wanted to donate a wheelchair to her little girl.  All she had to do was go pick one out and they would send her a check.  Low and behold they did, and now my cousin has the ability to help her little girl get around during physical activities such as field trips and shopping.
I tried looking up some information on this organization, but there is very little online except a few minor mentions in local news clippings.  If you know of anyone in the Thurmont Grange #409, feel free to pass along our gratitude and we would love to know more about them.