Rumors and Facts in Gettysburg and Adams County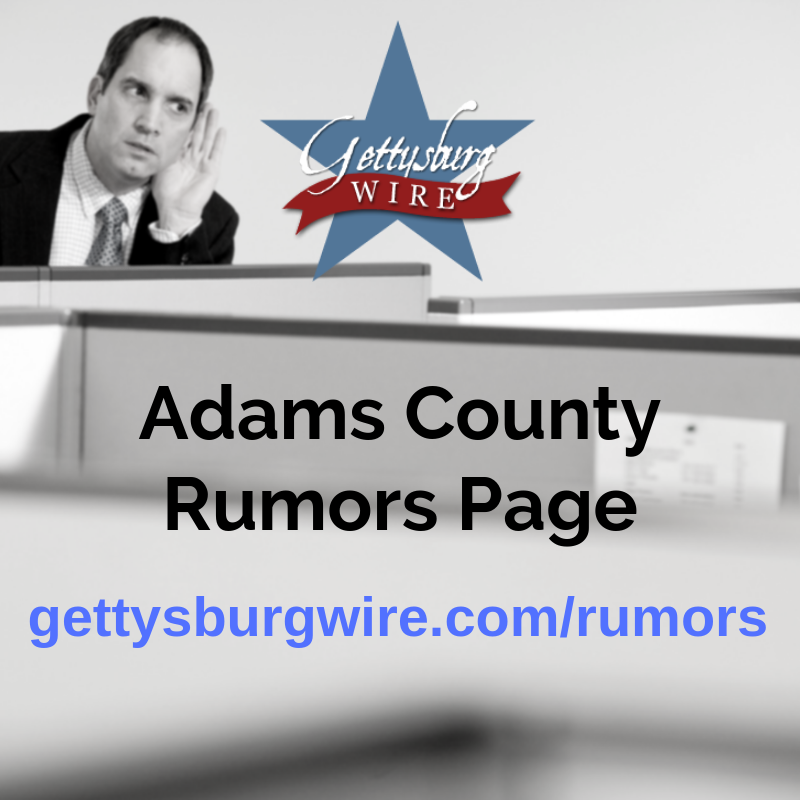 Welcome to the Gettysburg RUMORS page, where we try to compile and update all the rumors around the county in ONE place. We get asked the same questions a lot from folks around the county, so we are hoping this will help everyone have a central location to go to confirm or deny whether a rumor is true or not.
Disclaimer: We will not be posting anything bashing a citizen in the county. If someone has been arrested that is a prominent figure, we may mention it, but please don't ask us questions that are private. Only public record.
Current Gettysburg Rumors or Facts as of August 29th 2019
(bold are the updates)
Dave Bones Locker IS closing it's restaurant location. They will be continuing to focus on their charity work and food truck. They've stated this is due to local harassment and we have no information that confirms otherwise.
The Hoof Fin and Fowl is NOT closing at this time (confirmed August 1st 2019). They are waiting to finalize things for their alcohol license
The Gettysburger is NOT closing
The construction in front of Giant where the old green house used to be is going to be a Members 1st Location. The one inside the Giant is moving there. We do not know if a new bank is going into the Giant location.
Planet Fitness is NOT coming to Gettysburg at this time
Aldi is NOT coming to Gettysburg at this time
Michael's is rumored to be opening around Sept or October.
Lady Gaga was NOT at the drag show at Battlefield Brew Works
Nothing additional has been confirmed for the Panera Bread building locations that are open
5 Star Nails is still slated to be in that building, they had internet installed last week.
Sidney at Willoughby Run did close but the location in East Berlin is still open.
Franks Theater location is now going to be a winery, brewpub, and restaurant
There is a discussion about another parking garage per the Gettysburg Times, but we don't know when or if it is confirmed yet
Yes, we have Uber, Lyft, UberEats and Doordash. For UberEats and Doorbash, not all local companies are signed up, so please confirm before you order.
Dunkin Donuts is what is being built behind Advanced Auto, and I suspect will be opening in Sept or October
Yes the liberation of New Oxford was canceled, but they offered you to join them at Eisenhower farm for WWII weekend the same weekend.
Richard's Barber Shop is opening at 1 Liberty Street at the 30/116 split
A bear was on Route 30 August 13thbaround 7am by the mission. Pictures are on the Adams County Locals group below
Cashtown Inn is not closed and is still for sale 
Know some details about a rumor or want us to find out whether something is true or not? Contact us or join the Adams County Locals Facebook Group run by Gettysburg Wire :).
You can sponsor this page specifically for a month at a time below:
Submit your Rumor or Question
If you have a rumor or question you are curious about, submit it here and we'll see what we can find out and confirm for you 🙂  You can also text us at (717) 500-1848
February Business of the Month