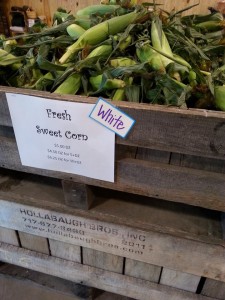 We hope everyone is enjoying this brief reprieve from the insane heat.  Not too far down the road from us last week were some brush fires from the high temperatures.  But that didn't stop us from going out and enjoying the local businesses and fare that Adams County has to offer.  Check out some of the places we visited last weekend:
Hollabaugh Brothers Market: My father has been going to this market for a while, but this was my first time visiting.  I didn't realize how BIG this place was.  As soon as I entered I felt like I was taken back to an old-timey grocer, with way more in stock than your average fruit stand.  They had everything from cantaloupe, to mushrooms, chips, canning supplies, candles, local honey, local beef, fresh baked pastries, and even places to sit and enjoy their sundry of items.
The Family Cow: My weekend wouldn't be complete without a visit here for organic meats and raw milk.  Have you visited them yet?  Try their beef sticks when you do, it's like…well crack sticks.  Their sausages are pretty amazing too.
Oylers Organic Farm: Another stop that I have to visit every weekend for their amazing grass-fed (from start to finish) beef and goods selection.  This trip I got another container of ghee and olive oil, some Wild Caught salmon, and I'm dying to get some of their books and soaps at some point.
Adams County Farm Fresh Markets: With vendors like Woollyboogers, Five Points, and Beevia, where you can get local lamb, local fresh veggies, and local honey and homemade pastries and pies, you simply can't go wrong here.
We always ask readers where they suggest we go next, and Carol R suggested this weekend we visit "Benny's Fruit Market" in McKnightstown, and that's just what we intend to do!  Will we see you there?  Where else do you like to visit in Adams County?  It doesn't have to be market or food related, we're wanting to support ALL local businesses in the area.  Leave a comment here or on our facebook with your suggestions!
Chambersburg Art
Downtown Chambersburg, a neighbor I am quite fond of to Gettysburg and Adams County, has an ongoing project right now called the "Downtown Mural Project".  From their website:
The Downtown Chambersburg Inc. Design Committee is coordinating a mural project that will add color and creativity to the public spaces of downtown. Artists are invited to create an individual mural that will be displayed at various outdoor locations in the downtown area.
Do you know any of the artists that are entering? I'd love to see some community created art in Gettysburg like this 🙂
Gettysburg 150th Walking Tour App
I just recently found out about a 3rd App in our "App Series" dedicated to the 150th Anniversary of Gettysburg and a narrated walking tour.  The Gettysburg Convention & Visitors Bureau launched this app on July 6th, and though I haven't had the chance to check it out yet, you totally should here.
Greatest in Gettysburg
The wonderful Celebrate Gettysburg folks have announced the "Greatest of Gettysburg" winners in their latest issue, which is viewable online.  Since our mission from day 1 is to promote local businesses and economy, we're thrilled to see more businesses getting a spotlight in the area.  Granted not all of the businesses listed are the small local businessees (some are chains), the majority of them are your local people just trying to make a living.  So check them out 🙂  We're looking forward to visiting and posting about all of these places soon.