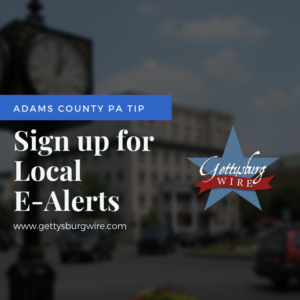 Some of our local townships and borough's have e-alerts you can subscribe to in order to stay "in the know" about what is going on around Adams County.
It is likely that you'll only need to subscribe to your particular borough or township alerts, but if you have an interest in other areas (such as Gettysburg Borough as the county seat), you can easily subcribe to others as well.
Unfortunately, most do not have a way to alert you of important information via email or text. Heck, some don't even have websites. Hopefully each township or borough will work their way towards easy information distribution in the future. We have web design companies locally that can help!
Boroughs & Townships with E-Alerts:
---
Boroughs & Townships without E-Alerts:
Abbottstown Borough – No E-News or alerts, but they have a digital newsletter.
Arendtsville Borough – No E-News or Newsletter or website  🙁
Bendersville Borough –  No E-News or Newsletter 🙁
Biglerville Borough – No E-News or Newsletter 🙁
Bonneauville Borough – No E-News or Newsletter or website  🙁
Carroll Valley Borough –  No E-News or Newsletter 🙁
East Berlin Borough – No E-News or Newsletter 🙁 But they do have an event listing!
Fairfield Borough – No E-News or Newsletter 🙁 But they do have a bulletin board with meeting date calendar.
Littlestown Borough – No E-News or Newsletter, but they have alerts and a calendar on their website.
McSherrystown Borough – No E-News or Newsletter, but they have news and announcements on their website.
New Oxford Borough – No E-News or Newsletter, but they have news and announcements on their website.
York Springs Borough – No E-News or Newsletter or website 🙁
Butler Township – No E-News or Newsletter, but they have news and announcements on their website
Cumberland Township – No E-News or Newsletter, but they have news and announcements on their website
Freedom Township – No E-News or Newsletter, but they have news and announcements on their website
Germany Township – No E-News or Newsletter, but they have news and announcements on their website
Hamiltonban Township – No E-News or Newsletter, but they have news and announcements on their website
Hamilton Township – No E-News or alerts, but they have a digital newsletter.
Highland Township – No E-News or Newsletter or website 🙁
Huntington Township – No E-News or Newsletter or website 🙁
Latimore Township – No E-News or alerts, but they have a digital newsletter.
Liberty Township – No E-News or Newsletter, but they have news and announcements on their website
Menallan Township – No E-News or Newsletter or website 🙁
Mt. Joy Township – No E-News or Newsletter 🙁
Mt. Pleasant Township – No E-News or Newsletter, but they have news and announcements on their website
Oxford Township – No E-News or Newsletter, but they have news and announcements on their website
Reading Township – No E-News or Newsletter, but they have news and announcements on their website
Straban Township – No E-News or Newsletter, but they have a brief meeting schedule and announcement section
Tyrone Township – No E-News or Newsletter, but they have news and announcements on their website
Union Township – No E-News or Newsletter or website 🙁