B.E. LAWN SERVICES, LLC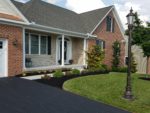 Business Name:
B.E. LAWN SERVICES, LLC
Short Business Description:
B.E. Lawn Services, LLC is a family owned and operated Lawn Care Company servicing Gettysburg and the surrounding areas.

​We specialize in creating and maintaining beautiful outdoor spaces at your home or business and bringing passion, enthusiasm, and expertise to every project.
Long Business Description:
Residential:
B.E. Lawn Services, LLC takes pride in making your home lawn and landscape look its best! Check out our services page for complete details!
Commercial:
We service multiple commercial properties in the Gettysburg area as well as large community properties. B.E. Lawn Services brings the small town quality and valued work to your commercial properties.
Lawn Mowing:
B.E. Lawn Services, LLC provides weekly mowing service for residential and commercial customers in Gettysburg and surrounding areas. Service Includes:
Lawn Mowing with bagging
Trimming edges of sidewalks and driveways and areas unreachable with mower
Clean up- blowing clippings & debris from sidewalks and patios
Field Mowing
Lawn Aeration – ask us about keeping your lawn healthy and looking great with specialized Lawn
Aeration!
Landscape:
​We love to create beautiful landscapes! Whether your home is new construction and we create your design from scratch or you just want to re-vamp your existing landscape we bring pride and enthusiasm to every job!
Design & Installation
Mulching
Stone
Weeding
Edging
Tree & Shrub Care
Hardscape:
Have you been considering adding a patio or walkway to your property? We specialize in the design and installation of Paver or Concrete Hardscapes!
Design & Installation
Walkways
Patios
Walls
Steps
Spring/Fall Clean-up:
Ready to clean-up your yard and landscape after a long winter or when those leaves start falling? We will bring your property back to life with a Spring/Fall Clean-up!
Leaf clean-up & removal
Clear fallen tree limbs
Flower bed clean-up & re-edging
Lawn aeration
Re-seed damaged areas of lawn
Tree & shrub care
Ask us about Power Washing! The perfect way to clean up your porch or patio!
We would love the opportunity to work with you! Give us a call today for a free onsite consultation and estimate!
Bryan Eberhart, Owner (717)253-3361
Business Phone Number:
717-253-3361
Ratings
There are no reviews yet.
Please
login
to rate this listing.
Send Message to listing owner
Please
log in
to be able to send messages to the listing owner.
Submit an Event
Rules for Events:
Must be local to Adams County
That's pretty much it lol
Benefits of listing your event?
Your event will be shown on most pages of Gettysburg Wire
We'll cross-promote events on social media as our listings grow
It's free!
You can manage and add events at will
September Business of the Month