Barbara A. Kohr® Iron Valley Real Estate of Central PA
Featured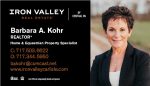 Short Business Description:
Residential Home Sales and Purchases
Equestrian Properties Specialist
Long Business Description:
As your REALTOR®, I will find you the home of your dreams and make the experience a positive one by protecting your interests. I am here to help you with all your home buying and selling needs. Whether you are looking to purchase land, a forever home, an investment property, build, or downsize, I can assist you. Iron Valley Real Estate believes in building life-long relationships based on honesty, integrity, and trust. I am proud to be a part of an organization whose values align with mine and those values are what I offer to you throughout every transaction.
Business Website Address:
Business Phone Number:
717.503.6622
Business Fax:
717.432.1437
Business Address:
2260 Spring Road, Suite 1
Carlisle, PA
Ratings
There are no reviews yet.
Please
login
to rate this listing.
Send Message to listing owner
Please
log in
to be able to send messages to the listing owner.
Submit an Event
Rules for Events:
Must be local to Adams County
That's pretty much it lol
Benefits of listing your event?
Your event will be shown on most pages of Gettysburg Wire
We'll cross-promote events on social media as our listings grow
It's free!
You can manage and add events at will
April Business of the Month