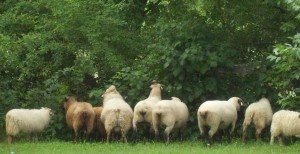 One of our goals with Gettysburg Wire is not only to show the diversity in Gettysburg, but to also help out the local businesses and economy by keeping as much of it local as we can. We shop local, we dine local, we live local. I'd hate for us to have to buy from a distance because of businesses closing down in these rough times.
So we're starting our "Spotlight of the Week" of a local business in Gettysburg. I guess week will vary, depending on how many local businesses there are to spotlight, but you get the picture 🙂
This weeks spotlight is Woollyboogers Icelandic Sheep.
They used to be at the Adams County Farmers Market, which is where we were introduced to the deliciousness that is lamb shanks.  However, in 2014 they decided they wanted to focus more on the farm and limit their obligations outside of it.
The GOOD news is, you can still purchase Woollyboogers Icelandic Sheep at Hollabaughs Market in the frozen meat section!  You support a local farmer, you support a local market, and you get to taste amazing local healthy meats.  What more could you ask for?
Have you tried their icelandic meats yet? Leave them a review below 🙂