Today there is a new restaurant opening in Hanover called "The Hanover Hub" at 11 York Street, in the Hotel Richard McAllister.  According to their website, they serve breakfast, lunch, and dinner 6 days a week.  For their grand opening special today, they will give every 100th customer a Hub t-shirt.  It also looks like they plan to have live music and events in their restaurant, but no details posted on those yet.
According to the Evening Sun, owners Dylan and Rachel Elliot want to help with the revitalization of Hanover that everyone keeps talking about but no one is doing anything about.  I'll have to agree with them on this one.  I drive through Hanover daily during my commute, and it's been stagnant and uninviting for quite some time.  I really hope they can help instigate some changes to the town, as it has a lot of potential.
Their menu looks like it is starting out small, but they intend to expand.  Donald and I will probably try to drop in sometime in the near future to check them out 🙂
Hand Held History
Another app for your smartphone has been launched called "Gettysburg, Windows in Time", courtesy of Hand Held History LLC.  This app depicts over 30 battle scenes with a GPS enabled guide to explore the battlefield.  I have not tried the app out yet, my phone is a very low-end Android, so my app-age is limited until I upgrade.  So if anyone tries this out, let me know.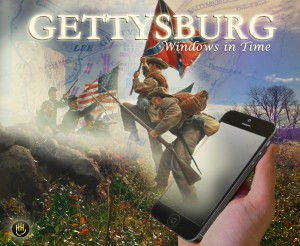 Happy 19th Birthday Chrome Gardens!
Gettysburg Wire would like to extend a Happy Birthday wish to Chrome Gardens tattoo shop, which celebrates its 19th year in business today.
What Happened This Weekend?
I hope those that were able to attend the "Thunder in the Sky" concert and other "Gettysburg Bike Week" events had a great time.  Donald and I were out of town camping down near Berkley Springs with some friends, and it was time very well spent.
I heard two complaints over the weekend from locals.  One being $4 hot-dogs at Hollabaugh Bros. over the weekend.  I'm not sure who the vendor was, but apparently the menu was fairly fine print so not everyone knew the hot dogs were so expensive.
The other was the car show at the Outlets that apparently took up all of the main parking spots.  A local who suffered from a back injury a few years ago and is unable to walk long distances comfortably sent in a complaint that all the parking was taken up by the car show, so they were unable to shop.  Why the car show was not in the back parking lots I do not know.