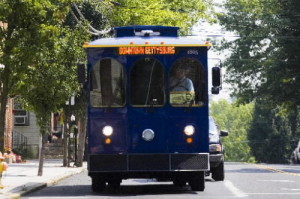 There's been a common question or "issue" regarding public transportation in Gettysburg.  We are surprisingly limited on what we have available, especially being a top tourist hub in the area (and nation).  I see a lot of questions about getting to Gettysburg from Harrisburg (or surrounding cities) when arriving by train or plane.  There simply isn't a great number of options for them to choose.
What we currently have:
Rabbit Transit is the only way to use public transit to get to Gettysburg from Harrisburg.  And this set to expire on June 30th of this year.  Even so, the schedule is limited because it departs in the morning Mon-Fri, and returns in the late afternoon.  You essentially have a small window during the week to use this type of transportation between the state capital and Gettysburg.
Rabbit Transit runs a "Freedom Transit" system runs throughout various portions of Gettysburg once you actually GET to town, but it is also threatened to discontinue in June.
One of the biggest problems is many residents we have that cannot drive, such as the elderly or lower income. And the majority of the inquiries I've seen about public transportation come from college students wanting to visit and not having a car to do so.  They can fly into Dulles, BWI, or Harrisburg, or take an Amtrak train to Harrisburg or a Greyhound bus to Frederick, but how do they get to Gettysburg after that?
The risk for the public transportation system stems from lack of funds that prevents us from getting state and federal grants.
The Alternative?
Paratransit such as minibuses will be it, because we don't even have taxi's.  I suppose you could rent a car, as we have one rental car facility (Enterprise), but imagine that one company facilitating car rentals during tourist season for everyone?
Personally, I would love to see the Freedom Transit saved, and see additional routes of Rabbit Transit from Harrisburg and Frederick.  I would assume local businesses would see the benefit in being able to transport additional tourists from larger cities into our home here?  Is there anything we locals can do?  Is there a reason to not support a small public transport line in Gettysburg?
What are your thoughts?