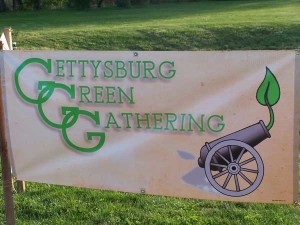 This past weekend we attended the Gettysburg Green Gathering held at the Adams County Agricultural Center.  Donald and I are both avid environmentalists, so when we heard about this through the local UU church, we decided to check it out.
I had a family friend mention to me randomly when I told them about the gathering: "You're not one of those nut-job environmentalists, are you?"
Really?  Allow me to tangent a moment.
I grew up a farmers daughter in a long line of black angus and potato farmers of German and Native American decent.  I find that farmers have a connection with the land and the cycles of nature that most conventional white-collar people ignore or lose touch with.  Anyone who enjoys being out in the woods, whether it is hunting, farming, plowing up fields with a John Deere, bird watching, taking your dog for a walk, sipping moonshine on the back porch or drinking lemonade from a porch swing, is an environmentalist.
I read an article (in a hunting magazine, no less) that touched on the subject of the DUTY of hunters, rednecks, hillbillies, farmers, etc. to care about the environment.  Unless you like living in concrete jungles and purchasing faux mystery meat, then you are an environmentalist because you care about what happens to your natural surroundings. If you ignore the idea of protecting wildlife and the land, then you are essentially ruining the vessel in which your passions for hunting and being outdoorsy can be executed.
THAT said.  Yes.  I am a proud nut-job environmentalist.  Considering the agricultural focus of Adams County, my conservative country neighbors, my liberal hippy neighbors, and those in-between, then I expect we are all nut-job environmentalists to some degree.
/End Tangent. Thanks for letting me get that off my chest.
Back to the Gettysburg Green Gathering, we were really stoked at the opportunity to not only meet the local businesses that support being eco-conscience in our backyard, but the opportunity to network with them and support them in whatever way we can through "The Wire".
Some of our highlights:
Great Music from local bands.  I have a passion for music as I am a musician, and want to network and meet other local musicians in the area.
New companies.  I didn't know there was a beekeeper that sold honey in Orrtanna, but now I do!
Soul Food. While Donald and I are limited on what food we can "purchase" from places like this, it was awesome to support the soul food truck at this local venue.
Puppies!  A very dog-friendly event, and we saw a lot of them.  We networked with a local dog trainer and got to meet several new four-legged friends.
Artwork from local kids.  Inside the building was a display of various amazing pieces of artwork made out of recycled materials from local school children.  I actually wanted to purchase some for my home and was enthralled by the creativity of the reuse of materials for several of these pieces.
Apple Cider Samples.  Oylers Organic Farms has the best hands-down apple cider in the area, and they were offering free samples to taste.
Information.  We took brochures from as many displays and vendors that we could.  I had no idea there was a local group dedicated to water conservation, and another towards land conservation in Adams County.  We have resources on where to recycle all kinds of items all over the county, and will likely provide these resources in future pages and blogs on our site 🙂
Some suggested additions from next year
More visitor interaction from vendors.  We went to the majority of the vendors to pay as many of them a visit as we could, but a lot of the tables didn't have anyone manning them, and a few occasions we weren't able to get anyone to talk to us.  I think it would have been a better representation if we were able to ask questions from some of the empty tables rather than just grab pamphlets.
Information on artwork purchase.  I don't know whether the art displays were for sale or not, but we would have liked some sort of indication either way.  The kids did such a great job, I'd love to support their efforts.
Marketing.  We didn't really hear much about the gathering at all.  We followed the event on facebook but it was pretty much radio silence.  We would have loved to have heard about it sooner or even helped get the word out, but we simply didn't hear much about it.
The Next Step.  The awesome thing about the Gathering is there is SO much information.  But  the downside about the Gathering is there is SO much information.  That's not necessarily a bad thing, but it can be overwhelming. Once you have all of this information, what do you do with it?  I am hoping that they will eventually develop some sort of single focal point or online portal for people to go to  see events and/or get involved without having to follow and track so many different organizations or companies all at once.  A local e-list or forum might be a good start.  Something to consolidate the locals to make a united front for the eco-conscience decisions moving forward. Perhaps this is something Gettysburg Wire can help with?
Needless to say, we enjoyed our short visit to the gathering, and look forward to it improving for next year.