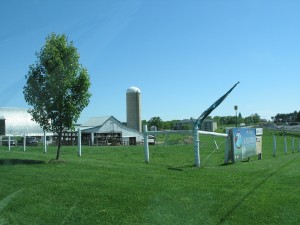 Greetings locals!  Donald and I spent the weekend doing our usual perusing of local businesses, farms, markets, etc.  My favorite part of the weekend anymore is my weekly visit to The Family Cow for some of their raw milk.  We tried out their local beef sticks this time and it took everything in my power not to turn around and buy a dozen more.  Trust me, they are that good.  Their sausage was mighty fine this morning for breakfast as well.
I think the main thing that makes me fall in love with The Family Cow every visit, is meeting up with the owner, Edwin.  Let me explain.  I've grown up around farmers all of my life, mostly non-organic, but my family consisted of mostly farmers.  Never have I seen such passion for farming and care of the animals and product as I do every time I speak with Edwin.  His knowledge and friendly demeanor make me 100% confident in his products (the taste alone sells it), and he's hands-on with the process.  He was stocking the shelves with Family Cow butter while we were there, how many business owners do that these days?
We also took a trip out to Oylers local organic farm for the first time, and were mightily impressed with their selection of organic local goods (and beautiful new building). Our main reason for going there was to support a local farm selling Wild Salmon. But not only do they sell cuts of meat in shop, they also sell pastas, grains, applesauce, books, soaps, milk, icecream, you name it.
This farm is a hidden treasure and haven in Adams County, and will be the newest regular visit on our Gettysburg Wire itinerary.  I've been wanting to find a local source to buy half or quarter cows, and was delighted to find that Oylers cattle are grass fed from beginning to end.  This is important to us, as we are on a grain-free lifestyle, and so many farms may have organic grass-fed meat, but most of them will grain-feed towards the end.
Not Oylers!  This is a true source for grass-fed local beef, hands down.  Since I raise my own chickens, I do not buy eggs from local farms, but I was also very pleased that Oylers chickens are non-GMO fed, non-antibiotic, and non-soy.  So if you need eggs and beef (or an array of other goodies), this is the place to go.
To disclaim, I am in no way paid or endorsed to rave about these local farms, and if I was I would certainly disclaim it or tell them to buy an ad to advertise on the site :).  I tell it like I see and experience it.  Gettysburg Wire is a portal to help tourists and residents enjoy all the wonderful vitality and culture that is here in Adams County.  I never knew the entire 5 years I've lived here that there was so much locally provided in regards to healthy organic nutrition.  And I feel entirely blessed to live in such a self-sufficient local economy.
Woollyboogers were at the Adams County Farmers market again this weekend, we were glad to see them there as I always enjoy talking to the owner.  This is another farmer that I can tell is passionate about caring for his sheep and farm.
In other news, I think that Donald and I want to take a visit out to Reid's Orchard & Winery sometime in July to experience their "Music in the Valley" events one evening.  Donald is also interested in one of the after hours events at Hauser Estate Winery, so if you attend either of these, you may see us there.  And yes, I'll probably be wearing the cowboy hat 🙂