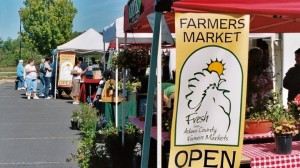 Next month, Farmer's Market Season opens up in Gettysburg.  We are fortunate to have two substantial farmer's markets in Gettysburg alone.  Adams County Farmers Market and Gettysburg Farmers Market  (who happened to open already!).  Both feature goods and produce from local Adams County businesses.
This is the start of one of my favorite things about living here.  There are so many locally produced goods and services, it seems almost entirely unnecessary to deviate into larger chains or outside sources in order to sustain ourselves, especially locally.  Almost.
Why is it Important to Support Local?
Less environmental impact because you are not having items shipped from far away. Energy conservation plays a part in this as well.
More farmland!  The more we need farms (and lets face it, we always need farms), the more land is preserved for farming
You're putting your money into the pockets of your neighbors, food in their mouths, and helping pay their bills.  Feels great, doesn't it?
Community.  Why not get to know your neighboring farmers?  Learn who they are, learn about their farm and family and strengthen the bonds of community which subsequently supports community growth?
Self-reliance.  If Adams County and surrounding areas can survive on its own, with its own people, by its own hand, then are we not the better for it and more independent?
Teach your kids the important lesson of supporting local, growing their own food, and enjoying farm fresh goodies
Why is it Important to Eat Local?
Fresher foods, therefor they are tastier and more full of nutrients
You're eating seasonally, which means you eat a more diverse portfolio of foods rather than the same stuff all the time
Safety.  The less steps there are for the food to reach your plate, the less chance of contamination
In the food "industry", vegetable farmers earn only 21 cents of your dollar.  The other 79 cents goes to marketing, distribution, and other costs1.
Fresher food lasts longer, especially if you normally purchase organic to avoid pesticides
Droughts in California?  Bio-terrorism?  Contaminated Lettuce from Dole?  Not here, and not with our local farms!  Big instances like this won't affect your local economy if it is thriving and supporting itself.
Sources:
1. Starr, Amory; Card, Adrian; Benepe, Carolyn; Auld, Garry; Lamm, Dennis; Smith, Ken; Wilken, Karen. Barriers and Opportunities to Local Agricultural Purchasing by Restaurants and Institutional Food Buyers. Colorado State University, Department of Sociology. April, 2002.