Locals are likely aware that in Gettysburg alone we have two different farmers markets in town.  I don't mean actual farm markets, where local farms have set up market stores on their own land to sell their goods.  I mean the actual local market that hosts farmers from all over the surrounding area in order to promote their wares.
Adams County is such a prime example of thriving local business and agriculture that we are fortunate to have two of these crowned jewels of local goods in Gettysburg alone.
But what's the difference?
The downtown market is more akin to what Hollabaugh's has achieved with their local country store.  A good mix of varying sundries such as a few local farms that provide produce (like Hollabaughs and Schwartz's), meats, and the rest are vendors such as Art House Coffee, Dawg Gone Bees dog treats, Kapana's Fine Soaps, and Restore your Sole's lotions.  This is a great variety of goods, all of which are excellent (we've tried almost all of them), but not what I would consider your traditional farmer's market.  I suppose I would consider this a local market.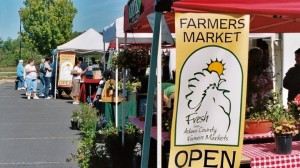 Adams County Farm Fresh Markets is more akin to what we've always envisioned the "farmer's market".  They carry almost exclusively agricultural items such as fresh fruits, veggies, apple ciders, some baked goods, local honey, flowers, herbs, and vegetable plants.
So in reality, you have a local market of varying goods, and a farmer's market of agricultural goods.  We tend to go to the Adams County Farm Fresh Markets weekly for our seasonal weekly food rations to support those local farmer's that are keeping healthy food on our tables.  The Gettysburg local market will likely stay as a monthly stop on our list as we need soaps, coffee, hot sauce, and lotions.  The soaps from Kalpana's alone were worth our trip and make my entire upstairs smell divine.  Definitely visit both of these luscious markets, as they are both a wealth of local savory goods brought to you by your neighbors.
Other Markets?
Outside of Gettysburg, we have a few small markets around, such as the Amish Markets of Hanover, which I have not yet been to.  However, their website touts a mixture of farm fresh produce, soaps, flowers, crafts, and furniture.  Perhaps we will stop by this one soon on one of our weekend excursions.